Big Helium Balloons Increase Traffic and Sales
We manufacture big helium balloons in the USA. Call 1-800-791-1445 for large, reusable advertising balloons.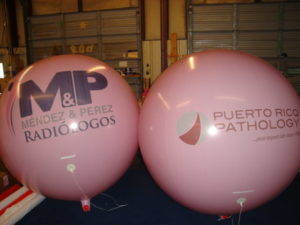 Email: Sales@BigHeliumBalloons.com for more information.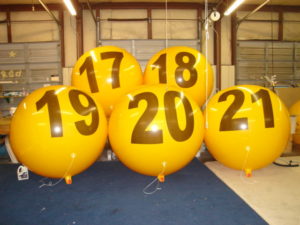 We have giant 6ft in diameter reusable, polyurethane balloons for $205.00! This inexpensive promotional balloon will increase the visibility of your business or event, increase traffic to it and result in more sales. People who have never noticed your enterprise will notice it now.
Call 1-800-791-1445 for giant reusable polyurethane helium balloons.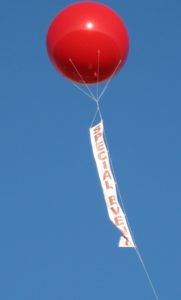 Giant, reusable helium balloons are very cost effective. For a few dollars each day you can reach hundreds, if not thousands of potential clients each day. A large 8ft in diameter balloon like the one above can have a vertical banner attached to it. These vertical banners, typically 26 inches wide by 15 feet long can add a short message or phone number which can be seen from a great distance.
Call 1-800-791-1445 for giant reusable promotional balloons.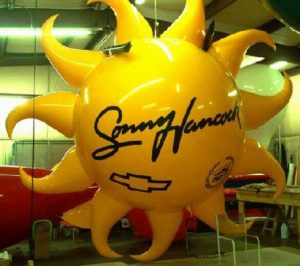 Large Custom Shaped Helium Balloons
We are one of the few, possibly only, balloon manufacturers in the USA who manufacture custom shaped helium balloons. Over the years we have created balloons in many shapes and sizes. We have made giant bedbugs, giant flying dragons to custom industrial lift vehicles which lift giant wind generators to power small cities. We can helium with your project!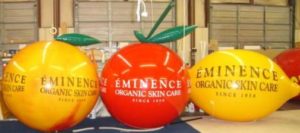 Email:Sales@BigHeliumBalloons.com for more information on our products and how they can help grow your business.
We make all types, sizes and colors of fruit shaped helium balloons. These fruit shaped helium inflatables can have logos or artwork added to them. Perfect for trade shows, farmers' markets or orchards. These fruit balloons can last for years with proper care and storage. We have some which we only use occasionally that are over 15 years old.
Call 1-800-791-1445 for more information on how we can help your business.